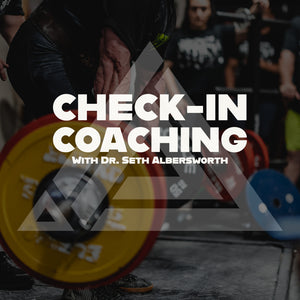 We are here to elevate the standard of online coaching in powerlifting. 
This is our take on what coaching should be. We are tired of cookie-cutter templates, late + limited feedback, and passing off programming as coaching.
Our Check In option is here to give you guys a more cost effective way to access our higher level of coaching services.
Why work with us?
-Do you want to improve your powerlifting total?
-Do you want to improve your relationship with training?
-Do you want a better understanding of how to reduce injury risk?
What to expect
-A coach that cares about training as much as you do
-A coach who wants to see you improve in and outside of the gym
-A unique coaching experience individualized to your needs, history, and preferences
-Movement prep that will carry over to the barbell
-Technique advice based on your leverages, strengths, and abilities
Our Track Record
-Over a decade of experience working with lifters from the recreational level to IPF World Record and All Time World Record Holders
-Over 20 500+ Wilks scores coached
-Multiple lifters brought back from being told they would never lift again
Check In Coaching Includes:
-Weekly asynchronous check in's for video review, progress updates, and technique discussion
-Weekly updated program including movement prep and warmups
*Coaching is billed on a 28 day cycle
*There will be a zero-tolerance policy on program deviations unless it is discussed with us.