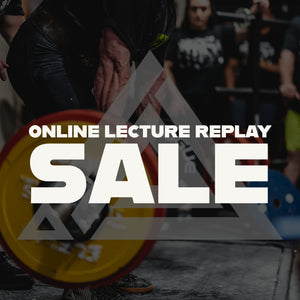 We are putting our online lecture replays on at a reduced price so that you guys can get your learning on over the holidays.

Pain & Injury Management
-Pt 1: Why do things hurt?
-Pt 2: Injury Risk Reduction
-Pt 3: Designing a Rehab Plan

Conjugate for Raw Powerlifting
-Pt 1: Conjugate Periodization Basics
-Pt 2: Exercise Selection & Needs Analysis
-Pt 3: Applying High Frequency To Conjugate

SBD Biomechanics
-Pt 1: Biomechanics Basics & Squat
-Pt 2: Bench
-Pt 3: Deadlifts & Spinal Flexion
30% off single series
50% off all three
Link to replay videos will be emailed within 24hrs of purchase.